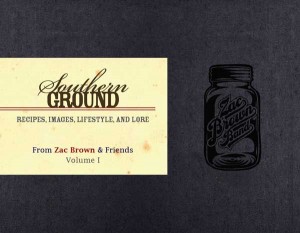 Steve and I recently received a copy of 
Zac Brown
and Friends new cook book "
Southern Ground
".  So we thought a great way to review the cook book would be to prepare a few recipes from the book.  The cook book is quite unique as it has Removable index cards that contain 27 of the most coveted recipes by Zac Brown and his friends – from
Southern Fried Chicken
and
Hearty Brunswick Stew
to
Farmer's Fried Green Tomatoes
and
Revival Peach Cobbler
. As well are dozens of poems, songs, and stories – both fact and lore – accompanied by images of art, nature, travel and life that illustrate how to make it all happen. Steve and I are huge fans of  the
Zac Brown Band
and were very excited to get a copy of the new cook book.  In Hindsight we probably should have chosen a couple but we really wanted to create a full meal including dessert so we ended up using 6 of the 27 recipes in the book, pretty ambitious of us novices. We started with
Southern Fried Chicken
, Not a very healthy main course according to my wife but oh well you only live once.  We used chicken thighs and legs marinated in buttermilk, Louisiana hot sauce and a couple of eggs for 45 minutes then breaded them with the ingredients from the recipe. I fried them on my side burner on my grill outside in case it got too smokey in the house.  My family is not really used to eating or even preparing fried foods as my wife refuses to eat or cook anything fried.  I guess that's not too healthy but man, Zac's fried chicken is too good not to have more often.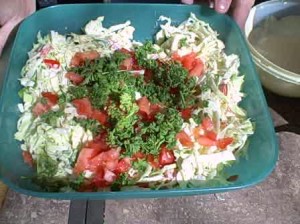 Next I prepared the
Pocket Knife Coleslaw
while Steve prepared the
Southern Black Eyed Pea Fritters
.  Our first encounter with Pocket Knife Coleslaw was at the Zac Brown Bands Eat & Greet we attended before their show.  Steve loved it and truthfully I never tried it at the Eat & Greet so we decided that should definitely be one of the recipes we try. I am so glad we did, and am so sorry I never tried it at the Eat & Greet as it is the best coleslaw I have ever had.  The secret is in the sauce, the horse radish really brought out the taste.  Steve mixed everything together for the Black Eyed Pea Fritters and fried them in shortening in the house as we only have one burner on my outdoor grill.  I couldn't get him to stop tasting them as he was cooking them.  He even set off my fire alarm, first time in 4 years they ever went off.  At least I know they work now. Next up was the prep work for the
Garlic Mashed potatoes
.  We had to roast some garlic, which sorry to say I have never done before and had to puree it.  The Garlic Mashed Potatoes were incredible and as good as any I have ever tasted in restaurants.  This recipe will definitely be a mainstay in our household.  While the potatoes were boiling I prepared the batter for the
Blue Ridge Mountain Cornbread
.  We were supposed to cook them in the oven in a skillet, but I did not have one that can go in a oven. I guess we will have to do some shopping for new kitchen stuff.  Instead I made them in to Blue Ridge Mountain Cornbread muffins, a little hint, muffins do not need to cook as long as a bread pan.  By now you can probably tell I am no chef, I usually do all the outdoor cooking.  That's really where I am comfortable and actually quite good at, if I do say so myself. Last but not least was dessert.  We went for the Revival Peach Cobbler, one of my favorite desserts and really quite easy to make. The ingredients for our adventure cost us about $60 but we were able to feed 9 people with left-overs.  It would have cost less if I had some of the spices before hand.  The spices alone cost about $20, but now we will have them for other recipes.  The whole meal took us about 3 hours to shop, prep and cook.  It's funny, my son Kyle asked how come we don't do this more often and I have to agree. This meal will definitely be added to our rotation.  Everyone enjoyed the meal and I am looking forward to serving the Pocket Knife Coleslaw at my annual friends and family cookout this year.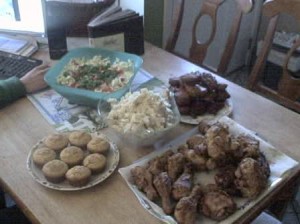 The Cook book is one of the most original ideas for a cook book that I have ever seen.  Filled with 27 recipes from Zac Brown and Friends and interesting stories and tales.  The recipes are on index cards for filing, but truthfully who would want to take them out of the book.  I  only have two suggestions for the next volume.  First, it would be great to have a picture of the finished recipe either on the index card or somewhere on the page and second, please add the lobster potatoes you had at your eat & greet.  My wife was not jealous of my going to the meet & greet without her, she was jealous that we had Lobster potatoes without her.  Pick up a copy of 
Southern Ground Cookbook
from Zac Brown and Friends, you will not be disappointed.
Related Blogs
Related Blogs on Southern Ground Cookbook
Related Blogs
Related Blogs on Southern Ground Cookbook
Related Blogs on Zac Brown and Friends Southern Ground CookBook
Related Blogs on Zac Brown Band