Known for bringing beautiful harmonies, authenticity and romance back to country music, husband/wife duo Joey+Rory are offering their take on holiday traditions this year with their poignant single "It's Christmas Time" and a unique children's album from songwriter think-tank The Song Trust entitled "Merry Kidsmas".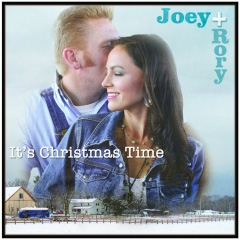 The couple is partnering with CMT One Country for both projects. A portion of the proceeds from the sales of "It's Christmas Time" will be donated to the local affiliate of Feeding America, The Second Harvest Food Bank of Middle Tennessee, and a portion of the proceeds from Merry Kidsmas will benefit the USO through the end of 2009.
While the single and album are two distinctive works, the message is the same. "We're incredibly grateful for an amazing year and hope to share some of that good fortune this holiday season. CMT helped launch our career, so we're really excited to team-up with CMT One Country in the spirit of giving," says Joey.
The Joey+Rory single "It's Christmas Time" is a tune written during a stay at Joey's family farmhouse in Indiana. It was released digitally on November 24.
"Just sitting in the house where Joey grew up made me think about all the Christmases she spent there," Rory explains. "All the trees they picked out and decorated all the gifts wrapped while the kids tried to sneak downstairs, all the Christmas dinners cooked and the last-minute guests who showed up at their door. I woke up early in the morning before anyone else, pulled out my guitar and wrote the song with all that in mind." The single was produced by bluegrass legend Carl Jackson, who also produced the duo's debut album.
Sweepstakes Rules: No Purchase necessary to enter or win a prize. The Joey and Rory CD Sweepstakes ends on December 14, 2009. The winners will be announced on December 15, 2009 on Countryfannetwork.com and will be notified by email. There are a total of 3 CD's to be given away. This sweepstakes is open to all legal residents of the continental United States including alaska and hawaii. Entrants must be at least 18 years of age or older at time of entry. To Enter please enter name and email, Following Joey and Rory and Countryfannetwork.com on Twitter is not required but would be greatly appreciated. By clicking "Enter Now" you agree to the Official Sweepstakes Rules and the Countryfannetwork.com
Privacy Policy
Related Blogs
Related Blogs
Related Blogs
Related Blogs
Related Blogs
Related Blogs
Related Blogs
Related Blogs
Related Blogs
Related Blogs
Related Blogs
Related Blogs
Related Blogs
Related Blogs
Related Blogs
Related Blogs