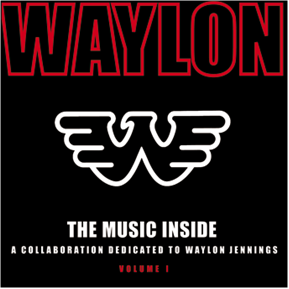 Waylon Jennings
is the biggest country music Icon that there has ever been and will ever be.  Every country artist aspires to reach the levels of success and excellence that he has reached.  With his bluesy sound and charisma, Waylon brought his own distinct style and sound to country music and left us so much to remember him by.  Waylon was known as a giving man, dedicated to his family and friends.  Waylon is now being celebrated by some of his closest friends on
"Waylon –  The Music Inside",
Kris Kristofferson
,
Jamey Johnson
,
Trace Adkins
and one of country music beloved groups  that re-united for this salute,
Alabama
,  just to name a few. The artist that where brought together for the first installment of the three CD set,  were brought together by Witt Stewart (Producer), the undying devotion and love of Waylon's wife
Jessi Colter
and their son
Shooter Jennings
who where involved in every step of the way.  Even picking the tracks that would be used. This project was done out of respect and a way for various artist and close friends to say thanks and give to Waylon what he gave to them.  Other artist appearing on this album are
James Otto
,
Randy Houser
,
John Hiatt
,
Sunny Sweeney
and newcomer
Chanel Campbell
. All the artist where told to make each song their own.  But as you can guess, they added their own styling but stayed within the Waylon sound.  They all wanted to add their own styling and ensure that the great music of Waylon Jennings was kept as pure as when it was recorded.  Jamey Johnson adds his deep outlaw sound to "
This Time
",  Jamey  really knows how to show his love of Waylon Jennings.  Alabama's version of  "
Are You Sure Hank Done It This Way
" is delivered in true Alabama sound.  Randy Houser lets loose with his version of "
I'm A Ramblin' Man
" in his deep jazzy blues sound.  Shooter Jennings really does justice to his father song "
Belle Of The Ball
" by slowing it down and turning it into a beautiful Ballard.  Sunny Sweeney and Jessi Colter are wonderful with "
Good Hearted Woman
".  James Otto takes his smokey blues sound and lets it rip with "
Don't You Think This Outlaw Bit's Done Got Out Of Hand
". Waylon's long time friend John Hiatt gets to together with Waylon and sings "
Just To Satisfy You"
, what can I say, its incredible, like a step back in time.  Kris Kristofferson with his road worn voice gets together with Patty Griffin and takes "
Rose In Paradise
" to a beautiful place that Waylon would be proud of.  Country Big Boy Trace Adkins lets his feelings loose in "
You Asked Me To
".  Trace's deep voice is perfect for this song, he really makes it his own while staying close to Waylon. The Best is saved for last with Waylon Jennings letting loose with "
Go Down Rockin'
", what can you say about Waylon except that he was and will always be the man. There is a short video on the CD that is 4 minutes long but feels more like thirty seconds and leaves you wanting more.  The footage is wonderful and the interviews are very personal and poignant about Waylon and their feelings toward him.
Waylon –  The Music Inside A Collaboration Dedicated to Waylon Jennings Volume I
has been a long time coming and celebrates not only the musician but the man who is Waylon Jennings.   The future of this 3 CD set is now set, people will love this set and want more.  What kind of surprises will there be in the future of the who's who of music who are going to show up on the next 2 CD's.  We shall see, but understand this, that whom ever is on the next 2 that from this point they only get better. God Bless Waylon Jennings and the wonderful family and friends who have taken the time and honor to make this incredible collaboration.