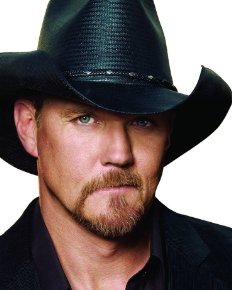 Today Trace Adkins announced the SONGS & STORIES TOUR, which will visit many of America's most beautiful theaters this Spring. These intimate evenings of powerful performances will incorporate stories, both humorous and meaningful, that pay homage to Adkins' working-man roots and rich musical heritage. Tickets for March dates go on sale to the public on Friday (1/27), more dates are expected to be added. A full list of dates and ticket info is below. Inspiration for the SONGS & STORIES TOUR came as Trace released his 10th studio album, Proud To Be Here, last summer with a CMT Invitation Only special. The special featured new hits "Just Fishin'" and "Million Dollar View," a Q&A session and the most-loved songs from Adkins' twenty year career. The taping was so fun for Trace and his guests that he began laying plans for a tour. "I've had many narrow escapes and blessings in my life. The right song at the right time has been my saving grace and that's something I have in common with the audience. Sharing meaningful songs, stories and some laughs 'around the campfire' is the Country music tradition and I'm looking forward to it." Fans can share their own stories, questions and the songs that have inspired or shaped their lives on the Songs & Stories page at
www.traceadkins.com
. From humble beginnings as a small-town Louisiana roughneck, to a Country super star with a twenty year career of hits, to his recent roles as outspoken author and actor, Adkins' life parallels the songs he sings. His albums showcase a range of earnest tributes and party anthems with humor and depth – the Songs & Stories Tour promises to offer the same. See the CMT performance that inspired the SONGS & STORIES TOUR:
http://www.cmt.com/videos/invitation-only-trace-adkins/1671287/full-episode.jhtml
TICKET ON-SALE DATES: • March dates: public on sale Friday, 1/27 (Fan club pre-sale begins Mon. 1/23.) • April & May dates: public on sale Friday, 2/3. (Fan club pre-sale begins Mon. 1/30). SONGS & STORIES TOUR DATES (MORE TO BE ANNOUNCED): March 8 Des Moines IA Hoyt Sherman Place March 9 Kansas City MO The Midland by AMC March 10 Peoria IL Civic Theater March 15 Milwaukee WI Riverside Theater March 16 Rochester MN Mayo Civic Theater March 17 Grand Forks ND Chester Fritz Auditorium *Fan presale 1/30, public on-sale 2/3 March 22 Birmingham AL Alabama Theatre April 12 Ashland KY Paramount Arts Center April 14 Toledo OH Stranahan Theater April 18 Louisville KY The Palace Theater April 19 Spartanburg SC Memorial Hall April 20 Charlotte NC Ovens Auditorium April 25 Denver CO Paramount Theater *fan presale 1/23, public on-sale 1/27 April 27 Salina KS Stiefel Theater April 28 Tulsa OK Brady Theater May 3 N. Charleston SC North Charleston Performing Arts Center May 4 Savannah GA Mercer Theater *fan presale 1/30, public on-sale 2/10 May 10 Davenport IA Adler Theatre May 11 South Bend IN Morris PAC *fan presale 1/30, public on-sale 2/4 May 12 Memphis TN Orpheum Theatre *fan presale 1/23, public on-sale 1/27 May 17 Atlanta GA Cobb Theater About Trace Adkins: Trace Adkins is one of Country music's most versatile and accomplished entertainers. His instantly recognizable baritone has earned 30 charted singles and 15 Top Ten hits gold, platinum, and multi-platinum albums with total sales surpassing 10 million. He is the author of A Personal Stand: Observations and Opinions from a Freethinking Roughneck. He was a finalist on NBC's The Celebrity Apprentice, where he charmed millions while his recent role in The Lincoln Lawyer put him in the company of Matthew McConaughey, Ryan Phillipe, Jon Leguiazamo and William H. Macy in the box-office topping theatrical release. A member of the Grand Ole Opry, Adkins was raised on Country and Gospel and is known as a traditionalist who speaks his mind and honors the past. The 6'6″ star is a father of five daughters and a family man to the core. He is a former oil rigger who still works his farm himself. His "gruff" demeanor hides a self-deprecating, humble man with the coolness that comes from defeating death (more than once) and realizing everything else is small stuff. When a fire claimed his home in June 2011 in Tennessee, Trace first made sure his family was unharmed, then immediately redirected his fans' offers of support to the Red Cross. Trace Adkins' tenth studio album, PROUD TO BE HERE, features the Top Ten hit, "Just Fishin'" and latest single, "Million Dollar View." The album was released on August 2, 2011 on Show Dog – Universal Music and debuted at #2 on the Billboard Country Album Chart.