Near Death Accident Inspires "Wurth-y" New Single and Lease On Life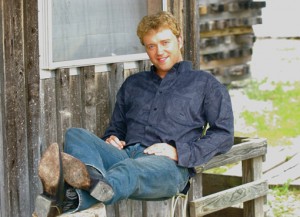 Nashville based, Grammy-nominated, singer-songwriter and producer
Tom Wurth
releases the re-mixed and mastered project,
IF THE ROAD RUNS OUT
, on September 8, 2009. The album comes from Echelon Records, a newly established independent label headed up President Mike Dinwiddie, who is also the Mayor of Spring Hill, Tennessee. Featuring cuts from his self-titled CD as originally released in 2006, the new musical composition includes two new tracks, "
I Almost Died Today
" and "
Your Hometown
," co-produced by Wurth and T.W. Cargile. A "song man,"
Tom Wurth
is a storyteller who realizes the relationship between his songs and the connection to his listeners. "I stand strongly behind these songs," said Wurth. "But times changed and regrettably the self-titled project was eventually shelved. It was like taking a gift you never opened and saving it for later. I don't feel like this project and these songs were truly exposed to those who could enjoy the 'gift.' They all still stand up and I'm more than excited to share them with fans, new and old." Since the self-titled release, Wurth was involved in a life-threatening automobile accident–the third major accident of his life–and the wreck strengthened his resolve to create organic songs that resonate with his listeners. After the accident, Tom exorcised the tragic event with the candid cut "
I Almost Died Today
," which was co-written Bart Butler and Roy Holdren. The nearly true-to-life musical story is a reflective, heart-heavy narrative of a man given a second chance. "I really feel like my faith in God and my love for my family is what allowed me to survive the accident and I'm grateful for another day, each and every day," Wurth added. IF THE ROAD RUNS OUT, produced by
Bart Butler
and
John Ford Coley
, features 4 co-writes along with songs penned by Coley,
Rivers Rutherford
,
Shane Minor
,
George Teren
and more. The 10-song CD is a map of life's winding roads and hits home with cuts like "
Good Ground
," "
Bread On The Table
," and "
It Ain't What You're Thinking
," songs that expound on the values he was taught growing up in Iowa. Wurth takes his listeners on a walk through loves lost, heartache and regret with "
Is This Lonely
" and "
Every Time I Close My Eyes.
" Through all of the ups and downs, Tom never loses hope and strives to live life to the fullest in "
Make Time For Loving You
" and "
Leaving Lonely Behind
."
Having become an active member of Nashville's music community, Tom Wurth is a notable musician and songwriter who states, "I don't write or work with anyone I couldn't go fishing with." Calm and casual, Wurth is a natural-born storyteller whose ultimate objective has always been to engage his audience with songs in the same vein of writers he admirers: Dean Dillon, Skip Ewing, Vince Gill and Steve Wariner to name a few.
"Tom Wurth is a three-way hitter. He's a tremendously gifted vocalist and artist, he's a and a Grammy- nominated songwriter, covering several different genres including Country and Pop/Rock," stated John Ford Coley, Wurth's personal friend and co-producer. "Tom has a genuine love for the song–strong and memorable melody–tunes that people can sing along with. Tom is truly a gifted singer with a style all his own. I think you'll love what you hear." Fresh from co-producing
Eddie Money's
latest project alongside Coley and
Johnny Gunn
in 2008, Tom signed with Echelon Records; the drive to "always improve, persevere and be persistent" makes up the label's namesake. Wurth is set to release the title cut from the new project "
If The Road Runs Out
" * (written with
David Fraiser
and
Bill Luther
) to country radio in the coming weeks. The album will be available digitally through both iTunes and CD Baby and via his corresponding web pages
www.tomwurth.com
and
www.echelonrecords.com
. Whether behind the production board, playing onstage, or with pen in hand, Tom Wurth continues to reinvent himself as a music man. With his finger on the pulse of country music, IF THE ROAD RUNS OUT is 'Wurth' a listen!