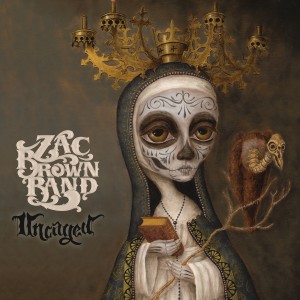 After listening to The Zac Brown Band for countless hours over the last few years and the last three weeks, I have come to understand that this man and his merry band of Troubadour's are like no other in anyway, shape or form. No matter what genre you compare them to ie: Bluegrass, Southern Rock, Folk and Country, Zac Brown personifies all them and more. We can add Blues, 70's Soul, Pop, Hip Hop and what ever else you want to compare them to. The collection of talents on this album only goes to show you how deep Zac goes to get what he believes is the best of the best and the sound that he believes to be like no other. Zac Brown is a man that strives to to be the first at everything that he and his band does, whether its camera's on stage from different angles over the internet, eat and great with the fans or what ever. Zac strives for perfection and graciousness with his music.
"Uncaged" is not just an album from the heart and soul of one of the greatest harmonizing bands in country music, or from the mind of a musical genius. It is the most creative and written and produced album done this year. Nothing negative to any other artist, personal opinion partly, but if you listen to this album and really listen to the sounds, lyrics and the soul that comes out of it, you will understand.
This album starts off with a whistle, bongos and acoustic guitar and the island sound of "Jump Right In". This up beat, beach party song gets things going by partying in the Islands, with its joyful sound, its hard not to tap your foot and get pulled right into the music and words of this fun song and the southern winds sings a lullaby. The album's titled song "Uncaged" is just what it is, fast and furious and fun. This is the perfect title to this album. This is like nothing The Zac Brown Band has ever done. There are no chains that can hold back the creative powers within this band or producer Keith Segall. Its understandable why they named this album "Uncaged" because its like a monster released and its everywhere in regards to sound, lyrics and musically.
I could sit here and talk about each and every song on this album, but talking about them does not do them justice. There really is no way to describe this master piece. Zac Brown has gone and done it again, giving something to his fans that no one was expecting and that was this tremendous moving album. Each song really tells a story and takes you on vacation, makes you want to make love, cry and scream with happiness.
The Zac Brown Band has its biggest hit to date. This album should clearly be nominated as "Album of the Year", and then some. I know this sound premature but this album is unquestionably fantastic. Zac and his Merry Band of Troubadour's has become one so well is makes you wonder how they can top this one.