The 43rd Annual CMA AWARDS show  broadcast on ABC-TV "live" from NASHVILLE's SOMMET CENTER, Country music's best and brightest proved once again that for Country — it's all about the music.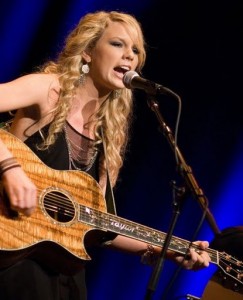 Tonight's biggest winner was 19-year-old BIG MACHINE artist TAYLOR SWIFT, who made it a sweep. SWIFT won four awards, including the coveted Entertainer of the Year Award. She was nominated in four categories — and took home the trophy for every one of her nominations.
TAYLOR is the first female to win the 'Entertainer' award in a decade, and she is also the youngest person to win the award in the history of the show. In addition, she ended CARRIE UNDERWOOD's three-year reign as the CMA's top female vocalist.
"I'll never forget this moment," said SWIFT, as she claimed the Entertainer award. "Because in this moment, everything that I have ever wanted has happened to me."
Some of the many standout performances included a blistering version of "The Devil Went Down To Georgia" from the ZAC BROWN BAND, a sparkling duet from VINCE GILL and DAUGHTRY and a solid performance as usual from MIRANDA LAMBERT.
SUGARLAND performed their new ballad "Keep You," and one of the crowd-favorites of the evening was MARTINA McBRIDE and GEORGE STRAIT's duet of "I Was Country When Country Wasn't Cool," in a tribute to Hall of Famer and former Entertainer of the Year BARBARA MANDRELL.
One of the lighter moments of the evening was when GRAND OLE OPRY star LITTLE JIMMY DICKENS gave us his best imitation of KANYE WEST. JIMMY came out and interrupted CARRIE UNDERWOOD as she was telling BRAD PAISLEY that "Welcome To The Future" was one of her favorite videos in a long time.
Before PAISLEY could reply, DICKENS came up and said, "Excuse me, sir. I'll let you finish later. I know you had a nice video and all, but TAYLOR SWIFT made the best video of all time. Of all time! You go, girl!"
PAISLEY replied, "What kind of security do we have that a 4 ft., 9 inch, 85-year-old man gets by it?" TAYLOR's "Love Story" video ended up winning the CMA AWARD for "Video Of The Year."

Here is a complete list of the winners:
Entertainer Of The Year
TAYLOR SWIFT
Male Vocalist Of The Year
BRAD PAISLEY
Female Vocalist Of The Year
TAYLOR SWIFT
New Artist Award
DARIUS RUCKER
Vocal Duo Of The Year
SUGARLAND
Vocal Group Of The Year
LADY ANTEBELLUM
Album Of The Year (awarded to artist/producers)
TAYLOR SWIFT – Fearless – producers NATHAN CHAPMAN and TAYLOR SWIFT – BIG
MACHINE RECORDS
Single Of The Year (awarded to the artist/producer)
"I Run To You" – LADY ANTEBELLUM – produced by VICTORIA SHAW and PAUL WORLEY
Song Of The Year (awarded to songwriter)
"In Color" – JAMEY JOHNSON, JAMES OTTO and LEE THOMAS MILLER
Musical Event Of The Year
"Start A Band" – BRAD PAISLEY with KEITH URBAN
Video Of The Year (awarded to artist and director)
"Love Story" – TAYLOR SWIFT – directed by TREY FANJOY
Musician Of The Year
MAC McANALLY – guitar

Related Blogs
Related Blogs