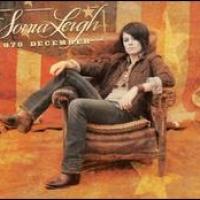 Loretta Lynn
certainly didn't know she was seeing a future opening act when she spotted a five-year-old girl in the crowd at an Alabama concert.  As the story goes, during a quiet moment the enraptured child exclaimed, "now that's country, dad!" The crowd stirred and the coal miner's daughter herself spotted little
Sonia Leigh
, then bowed and waved, laughing, before moving on to the next song. But nearly 30 years later, that little girl opened for Lynn, winning over audiences with her gritty vocal delivery and bold, disarmingly honest songwriting.  Between her childhood concerts and her rising career today as a
Southern troubadour
were many hard days, battle scars and dues paid. Sonia Leigh has earned every bit of the soulful, lived-in authenticity her songs and performances portray.  At the same time, an amazing chain of events—and a long list of friends and supporters—has put her on the cusp of even bigger success.
"I'm nothing without all the people who have been there for me," Leigh notes. "I've got keys to just about everybody's apartment in Atlanta because I've slept on everybody's couch. But I've kept at it, because I really do truly feel that this was the calling on my life. I always knew this was what I wanted to do."
That sense of destiny has always been important for Leigh.  She left home at age 17 to pursue her dream. "When I left home I had fifty bucks, a garbage bag full of clothes and my guitar," she recalls. "And that's it." Determined to make it on her own, the teenager took three jobs—despite not owning a car  And determined to make it musically.  She joined a band, which fortunately practiced right across the street from where she worked.  Nothing has been handed to Sonia Leigh.  Shortly after that memorable Loretta Lynn concert, her parents divorced, and she spent her childhood being passed back and forth between her father and mother.  Later Leigh moved frequently with her dad as he took various jobs across the south and Midwest.  Leaving home was just another uphill battle in a young life full of them. "My life wasn't the easiest, but it made me who I am today and a stronger person," Leigh observes. "If I hadn't left home and endured the things I did once I left home, I wouldn't have written the songs I've written." For her, it all comes together on "
Ain't Dead Yet
,"
1978 December's
lead track, which delves into the influence her musical peer, blues artist Sean Costello, had and continues to have on her, even after his unexpected passing.  The entire Atlanta musical community mourned the loss of such a promising young artist, but few more than Leigh, who still visits his grave regularly to hold one-sided conversations.  "When he died I pretty much made a vow that I was gonna keep this going for both of us," she says. "That's basically that. I'm not dead yet, so let's go out there and do it."
"When I first saw Sonia Leigh perform, I knew she was a star, and I knew I wanted to be by her side and create something special together"….Zac Brown
The first time I saw Sonia play was at the Boston University Agganis Arena with The
Zac Brown Band
, that was 2 years ago. I am blown away today as I was back then, I looked at my partner and said quote " We will be hearing more from Sonia in the near future", and boy was I right and not that that happens to often.  Sonia's vocals just leap off the stage and out the speakers and grab you right by collar and hold on to you before you really have a chance to react, your just in awe at the gravely powerful vocals that come out of this young lady. Sonia's new album "
1978 December
" comes right from the heart of this power house singer/song writer.  With the help from the likes of
Zac Brown
and his right hand man
John Hopkins
,
Matt Mangano
with
Clay Cook
(who is also on the
Southern Ground Labe
l, "
On Mountain Time
" is his new album) Sonia lets loose with the things that make her who she is and what affects her musically and emotionally. Sonia starts the album of with a very poignant and to the point song "
Ain't Dead Yet
" a salute to her blues peer
Sean Costello
, who had a tremendous influence on her then and still does today.  Sonia's gruff sound and deep blues influence really come out and lets you know that she is not going anywhere anytime soon.  She never has  and never will give in to the pressures of making it to the top which every artist dreams of.  Sonia wants to make people smile and share with them what has been shared with her, from her experiences and influences in her life, be it music or personal.  "
Money Is My Name"
is a great song that is so true, when you look at the state of this country and the world, this song tells it perfectly.   If it where not money, we would not be where we are today and in the state that we're in.   Sonia hit it right on the head with this one.  "
Bar
", how many of us at one time in our crazy lives have drowned our sorrows at the bar and then said we ain't gonna do that again.  Well this song is for all those folks that have said it and just fell of the wagon and continued doing and blaming everyone else.  Great song, great lyrics and with the banjo in the background with the fiddle the  music blend is incredible. I could go on and on about each song on this incredible album from one of country's newest rising stars, but I won't.  I want you to buy it, and listen to it over and over like I have and enjoy this great singer/songwriter as much as I do and see for yourself what singing from the heart gives you. Life gives you what you work hard for, and how you deal with tough times.  When you come out of tough times and are still standing tall like Sonia Leigh is, you will fully appreciate what God has given you and appreciate it more for the hard work you put into it. 1978 December will be one of the defining moments in Sonia's career and will only propel her up and outward.  Her great many followers will grow immensely and only prove that now is her time and she is setting out with raw determination and refusal to be stopped or pushed aside.
1978 December Track Listing
1.  Ain't Dead Yet 2.  My Name Is Money 3.  Bar 4.  Ribbon of Red 5.  I Just Might 6.  Virginia (feat. Amy Ray) 7.  A Poem from the Ocean Floor 8.  If You Won't Tell (feat. Zac Brown) 9.  Roaming (feat. Zac Brown) 10.  1978 December