"What A Way To Go"—A Fitting Introduction to Spitfire Singer/Songwriter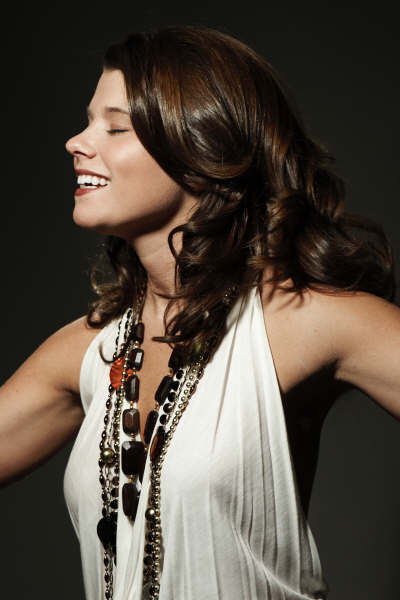 Nashville's
Blue Steel Records
is excited to present the first female recording artist from their roster,
Anna Garrott
, a confident female performer who lays her cards out on the table with a winning hand every time. Garrott is set to release her first single,
"What A Way To Go,"
*
as her official introduction to country radio on
September 8, 2009
. Blue Steel's leading lady is a southern songstress with a powerful voice all her own. Hailing from Troy, Alabama, those close to Garrott describe her as "the girl next door who rock's her butt off" and she lives up to the hype with
"What a Way To Go."
Garrott's new single (written by
Bobby Fischer
,
Phil Vassar
and
Charlie Black
and produced by
Rick Holt
) tells the tale of a sassy, spunky young woman who is "just plain falling in love."
"This isn't your typical girlie tune; I think this sums me up in a relationship. I might not want to admit it, but, if I'm gonna fall, I'm gonna fall hard!" Garrott states. "If you're looking for sappy love songs, you won't find them here."
Anna Garrott is no shrinking violet. She is a country performer and songwriter whose musical make-up highlights a touch of
Patsy Cline
tradition and a brush of Janis Joplin bohemia. From "
Steel Magnolias
" country, Anna Garrott's music chronicles every sentiment–from tender life moments to getting over a broken heart–with bittersweet spirit. A marketing major who sang her way through college, appearing on stages in the Southeast from Panama City to Mississippi, Garrott magnifies her girl power in every spitfire performance, and it's Garrott's stage show that caught the attention of her label, Blue Steel Records, early on.
"Anna Garrott commands attention with her voice and effervescence and 'What a Way To Go' is a great overall representation of her music." Steve Pope, Blue Steel's CEO introduced. "We are so lucky to have her on the label. She's our rose, but watch out for those thorns!"
Following the single release and a scheduled radio promotion tour, Garrott will continue her aggressive performance schedule and record the follow-up to her 2008 self-released independent project
ONLY TIME WILL TELL
.