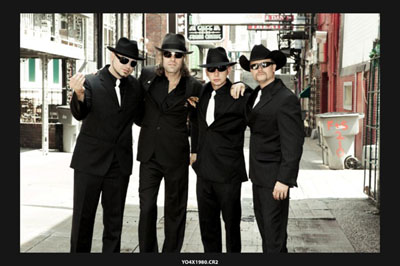 MuzikMafia
is a group of friends whose passion in life is to make great muzik. Founded by Warner Brothers recording artists
John Rich
,
Kenny Alphin
(Big Kenny),
Jon Nicholson
and muzik publisher and industry exec,
Cory Gierman
(affectionately referred to as
The Godfathers
), the Mafia started with the simple, yet powerful idea of bringing a group of artists together, regardless of race, religion, background or muzikal genre', to make muzik. "It's about putting a blue grass guy up there with a Rock n' Roll guy and seeing what happens" says
Big Kenny
. "It's about getting people to open their minds to all types of muzik", explains Jon Nicholson. "It's about muzik without prejudice", says Cory Gierman. The idea came to life in October 2001, when the
MuzikMafia
played its first official show at the Pub of Luv in Nashville, TN. "We had all been beat up pretty good by the "industry" and we told ourselves, if nothing else, we might as well be playing muzik", explains Big Kenny. So, with a few die hard fans, a mission of sharing the love of muzik and enough insanity to think people would listen, MuzikMafia was born. And for the next 76 straight Tuesday's in a row, the artists in the
MuzikMafia
played to ever-growing crowds of fans with their simple passion of sharing their love of muzik. Five years, several tours, 6 Grammy nominations and 11 million records sold later, MuzikMafia now includes a family of artists including founding members
Big and Rich
, Jon Nicholson and Cory Gierman along with
Gretchen Wilson
,
Cowboy Troy
,
James Otto
,
Shannon Lawson, Damien Horne (Mista D)
,
Two-Foot Fred
,
Rachel Kice
,
Chance
and several more in development, all potential breakthroughs.
Some have compared the Mafia to the 1970s outlaw movement in country muzik, which saw the emergence of "out of the mold" artists like Willie Nelson and Waylon Jennings – whatever it is, it is still about making great muzik, and sharing it with all who care to join in. "We are together, what none of us could be alone" – Gretchen Wilson "This is friends getting together to share their love of muzik, that's it" – Big Kenny
And that's the Mafia. Last chance to catch Big & Rich This Summer at These Venues: 8/29/09 Big Flats, NY Tag's Summer Sound Stage 8/30/09 Gilford, NH
Meadowbrook U.S. Cellular Pavilion
Buy Now
9/4/09 Syracuse, NY New York State Fair/Grandstand 9/5/09 Atlantic City, NJ Resorts Atlantic City — Superstar Theater See you All There!!
Become a Mafia Soldier! Simply sign up for their free email list and you'll also receive:
Artist News
Tour Dates
Special Promotions, Contests and Giveaways
Special Deals on CD's and Mafia Gear
Exclusive MuzikMafia Radio and video!
All things Mafia
Join the Revolution!
Related Blogs
Related Blogs on Big & Rich
Related Blogs on Big & Rich Concert Tour
Related Blogs on Big & Rich Country Music
Related Blogs on Country Music
Related Blogs on Muzik Mafia
Related Blogs
Related Blogs on Big & Rich
Related Blogs on Big & Rich Concert Tour
Related Blogs on Big & Rich Country Music
Related Blogs on Country Music
Related Blogs on Muzik Mafia
Related Blogs
Related Blogs on Big & Rich
Related Blogs on Big & Rich Concert Tour
Related Blogs on Big & Rich Country Music
Related Blogs on Country Music
Related Blogs on Muzik Mafia
Related Blogs
Related Blogs on Big & Rich
Related Blogs on Big & Rich Concert Tour
Related Blogs on Big & Rich Country Music
Related Blogs on Country Music
Related Blogs on Muzik Mafia
Related Blogs
Related Blogs on Big & Rich
Related Blogs on Big & Rich Concert Tour
Related Blogs on Big & Rich Country Music
Related Blogs on Country Music
Related Blogs on Muzik Mafia
Related Blogs
Related Blogs on Big & Rich
Related Blogs on Big & Rich Concert Tour
Related Blogs on Big & Rich Country Music
Related Blogs on Country Music
Related Blogs on Muzik Mafia
Related Blogs
Related Blogs on Big & Rich
Related Blogs on Big & Rich Concert Tour
Related Blogs on Big & Rich Country Music
Related Blogs on Country Music
Related Blogs on Muzik Mafia
Related Blogs
Related Blogs on Big & Rich
Related Blogs on Big & Rich Concert Tour
Related Blogs on Big & Rich Country Music
Related Blogs on Country Music
Related Blogs on Muzik Mafia
Related Blogs
Related Blogs on Big & Rich
Related Blogs on Big & Rich Concert Tour
Related Blogs on Big & Rich Country Music
Related Blogs on Country Music
Related Blogs on Muzik Mafia
Related Blogs
Related Blogs on Big & Rich
Related Blogs on Big & Rich Concert Tour
Related Blogs on Big & Rich Country Music
Related Blogs on Country Music
Related Blogs on Muzik Mafia
Related Blogs
Related Blogs on Big & Rich
Related Blogs on Big & Rich Concert Tour
Related Blogs on Big & Rich Country Music
Related Blogs on Country Music
Related Blogs on Muzik Mafia