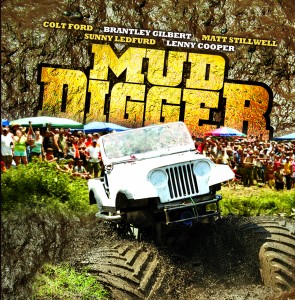 What do you get when you mix up some of country music's hottest new artists with the biggest and baddest of weekend crazes?
MUD DIGGER
! Now available on iTunes and Wal-Mart. Average Joes Entertainment recording artists
Colt Ford
,
Brantley Gilbert
,
Matt Stillwell
,
Sunny Ledfurd
,  and
Lenny Cooper
team up for a CD full of new and exclusive tracks that celebrate true country pastimes. You don't need a big truck to dig these tracks but you do need a CD player. "
Mud Digger
" is a catchy tune, I love
Colt Ford
in this track and
Lenny Cooper's
vocals are great.   
Colt Ford
might not have much of a singing voice according to him, but he definitely adds that special something to any song he is featured on.  Colt is featured throughout this CD on "
Shindig
" with
The LACS
, "
If It Ain't One Thing(It's Your Mother)
" with the very talented
Lauren Briant
(we will get back to this one in a moment), "
Dirt Road Dancing
" with Matt Stillwell as well as a couple of his own songs including "
Dirt Road Anthem
" with Brantley Gilbert and "
Huntin' The World
". Colt Ford is like the frosting on the cake..Enough said. "
Kick it in the Sticks
" which currently has over 1,200 downloads a week on ITunes and "
G.R.I.T.S.
" both by
Brantley Gilbert
are some fine examples of his work and belong on this CD.  "G.R.I.T.S." off of Brantley's debut album "
Modern Day Prodigal Son
" is one of his top selling singles and one of my favorite songs of his.
Sunny Ledfurd
is well represented in this offering also, with "
Long Weekend
" which has never been available on CD.  His other song is "
Nothing in Particular
" which in my opinion has to be his best song to date and definitely has some serious potential for plenty of radio plays. I'm just grateful I got the CD, so I can hear this song as many times as I want without having to wait for the radio stations to pick it up. Both of
Matt Stillwells
offerings are also prime examples of his work including "
Shine
" from his release "
Shine Deluxe
" and "
Dirt Road Dancing
" featuring who else Colt Ford. This new version currently is the #2 video on GAC's The Top Picks Channel and the #8 most requested song on XM11. Now back to
Lauren Briant
.  For me Lauren is the Jewel of this collection of singers on this CD.  I absolutely love this girls voice.  The Track "
If It Ain't One Thing(It's Your Mother)
" a duet with Colt Ford is a fun and catchy song that really made me stand up and take notice of her voice.  This song has never been released anywhere and I am really glad it was released on this CD.  Lauren also has "
Butterfly Tattoo
" on this compilation and it really showcases her talents as one of the next great female country singers. I am looking forward to hearing a lot more from this young girl. I would definitely reccomend you pick up or download a copy today this CD is a great compilation of these fine artists and showcases in my opinion some of their best work to date. So bring your truck, swamp buggy, or four-wheeler, hit the mud and CRANK UP MUD DIGGER! It's good clean mud music for the whole family!
Mud Diggers Track Listing:
1.         Mud Digger – Colt Ford & Lenny Cooper 2.         Shindig – Colt Ford & The Lacs 3.         Kick In The Sticks – Brantley Gilbert 4.         Long Weekend – Sunny Ledfurd 5.         If It Ain't One Thing (It's Your Mother) – Colt Ford & Lauren Briant 6.         Dirt Road Anthem – Colt Ford & Brantley Gilbert 7.         Butterfly Tatoo – Lauren Briant 8.         Huntin' The World – Colt Ford 9.         Nothing In Particular (Remix) – The Lacs & Sunny Ledfurd 10.      Dirt Road Dancing (Remix) – Colt Ford & Matt Stillwell 11.       G.R.I.T.S. – Brantley Gilbert 12.       Shine – Matt Stillwell