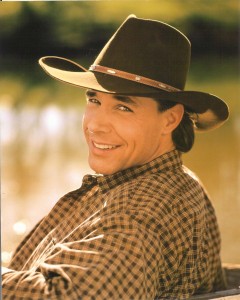 August 7, 1959 the number one country song was "Three Bells" by the Browns and it would go on to stay on top of the charts for four weeks. But during those four weeks, a future country star was born in Tucson Arizona by the name of
Michael James Peterson
. Michael would spend a lot of his time growing up, around and with his grandmother. Subsequently that would be how he came to love music. By being around his Grandmother and her love of music, Michael's love of music evolved. Michael's Grandmother would listen to the great music of her time like Tin Pan Alley Era Stuff, show tunes, Jazz, Duke Ellington, Ella Fitzgerald, Johnny Mathis, Frank Sinatra and then modern (Late 60's and 70"s) particularly Jim Croce and John Denver. His Grandmother really did not give him advice in regards to his music, but she did model him to "Pick What You Love…Love What You Feel…Play if they like you or they don't, Play if the pay or if they don't. Just Play!!!!!!" Michael grew up the typical teenager, playing football, joining the Choir and working hard on his school work to make the Honor Roll. It was real important to Michael to leave a winning impression on his peers and teachers and to live a life pleasing to God as he understood that pursuit and to fit in while standing out while excelling at football and singing. He was and still is a believer in being safe while being adventurous in every aspect of his life and to those he came in contact with no matter where he was or whoever he was with at the time. In High School Michael did not have a nickname, like most kids had, but what he did have was a love for football and basketball and he kept to himself and his small group of friends worked out often and went to church. His love of music was starting to evolve. Michael was beginning to play the guitar if that's what you would call it and he was trying his hand at writing music, but not anything he would have played for anyone. Some of his inspirations growing up where his High School Football Coach J. D. Covington who coached Michael through high school and helped him with his scholarship to Pacific Lutheran University where Michael would be a member of a National Championship team. That is where he met fellow teammate Brad Westering, who was a producer for singer Deniece Williams. Eventually, Michael would travel to Nashville where he started working as a professional songwriter, collaborating with other writers such as Josh Leo and Robert Ellis Orrel. While Michael was writing with Robert Ellis Orrel, he got a suggestion from Robert that Michael should sign to a recording contract, In December 1996, Michael James Peterson signed his first recording contract with Reprise Records, a division of the Warner Music Group. His debut single,
"Drink, Swear, Steal & Lie",
was released that year, charting at #3 on the Billboard country charts and #86 on the Billboard Hot 100. It was the lead-off single to Peterson's self-titled debut album, which also produced four more chart singles. The second one, "From Here to Eternity", became Peterson's first and only Number One hit, while "Too Good to Be True" reached #8. Following it was "When the Bartender Cries" at #37 and "By the Book" at #19. The album was certified gold by the RIAA for shipping 500,000 copies in the U.S. Also in 1997, Peterson was named Male Artist of the Year by Billboard.