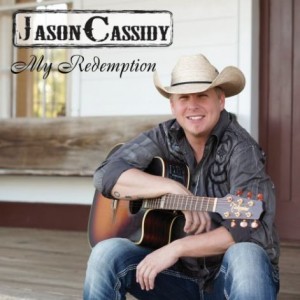 redemption – (Christianity) the act of delivering from sin or saving from evil
Synonyms: salvation
That's just what happened to country's newest rising star when he met his now wife, Brandi who inspired him to start writing and composing music again. You see, Jason was kind of a rabble rouser, not in a way the most would think. Jason liked to live the life of a country superstar even though he was not. The thought of church was not the first thing on his mind until Brandi came alone. He said to me during our recent interview, that he thought "the church would burn down if he had stepped inside", but quickly learned that God is honestly a forgiving man and welcomed him with open arms. Jason began composing and writing again shortly after that.
Here is my interview with Jason, I can only hope I can come across with honesty, integrity and love of God that fills this family man, and drives him to be the best husband and father to his family and an inspiration to his fellow man.
CountryFanNetwork – What drives Jason Cassidy?
Jason Cassidy – Musically, Life and how far I have come. It has taken a long time to come into my own musically and spiritually. I got back into going to church and reconnecting with God because of my wife Brandi.
CountryFanNetwork – Is that when you started writing "My Redemption"?
Jason Cassidy – Yes, the lyrics just poured right out within about an hour and the song was finished. I have learned that I am not here for myself, I am here for God.
CountryFanNetwork – What do you want people to get from your music?
Jason Cassidy – I want to help as I can through my music and the truth that comes out in my lyrics. I would love to be a household name. Not being on a major label requires the band, label and the our supporters to work that much hard to get us the exposure we need to have to become that household name.
CountryFanNetwork – What do you like to do when your not on the road or in the studio?
Jason Cassidy -Spend as much time as I can with my Family. Love to sit on the back porch, fish with my wife while the kids are in school, then pick them up and continue fishing with all of us. If it is a Sunday, church and my cell phones are off and put away in a box. I try to be a roll model to my kids and try and teach them right.
Jason Cassidy considers his music to be "Backwoods Country", in line with the like of Brad Paisley in his early days, Jamey Johnson and the likes. He is completely devoted to his music and understands what his priorities are and where his real responsibilities are with his family and God first. If you ask Jason what is the most important thing that he wants people to understand about him and his music, he would say that God is his inspiration along with his family and that he feels the need to reach out through his music to help people in so many different ways and age has no bearing on any of it.
Jason Cassidy is a new fresh face and sound in country music who is climbing the charts with his new single "What If". His potential is limitless and dedication and heart are on less than anyone else. Jason is just coming at it from a different perspective then most.
So do Jason and yourself a favor and check out his new single "What If" and enjoy what everyone else is. The deep heartfelt emotions and honestly that ring throughout this album.
Special thanks to Jason for giving something to me during this interview that was totally unexpected. From the bottom of my heart thank you and Best of Luck.