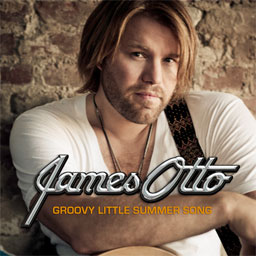 I recently had the chance to interview James Otto. Here I am sitting in a passing rain storm and James passing through the desert in California and him losing reception because of bad cell signal and the rain storm causing my phone to lose its signal.  I talked with James Otto about, his new album " Shake What God Gave Ya", life and his music Idol's.  James was pretty candid about what makes his music what it is and where he got his desire for soulful country music.  Ray Charles, Conway Twitty and Ronnie Milsap are just a few of his music idol's that have given him the desire and love of music.  With his upcoming album, comes a new James Otto.  Sounds of soul music mixed in with his deep love of country.  James and his wife Amy are expecting their first child later this month, a little girl.  His love of family translates highly in this new album.  His drive to be all he can be and to ensure his daughter understands in time, how hard of a worker he is to provide for his family and to do what ever it takes to live up to his responsibilities as a husband and most importantly a father.
Countryfannetwork – When my wife first heard " Just Got Started Lovin' You " she was in love with the song right away.  She said to me that she needed to see this man that sings such an incredible love song.  When she did she was blown away by the fact you are such a big man with such a sultry voice.  Where did that sultry sound come from?
James Otto – Thanks so much to your wife I really appreciate it.  It makes singing worth while to hear people's reactions to my songs.  I tried to sing like a lot of my favorite singers like Ray Charles, Conway Twitty and Ronnie Milsap just to name a few.  But it really came from just singing and finding out who I was when it came to singing and just letting it flow.
CFN – Do you think that " Groovy Little Summer Song" can compete with the success of " Just Got Started Lovin' You?"
James -  Probably not.  How do you compete with a hit song like that?  I am not even sure a big Artist can top there own great song.  People like Tim McGraw, Carrie Underwood etc… work very hard at what they do,  not knowing what to expect one song to the next.  You just work hard and hope the fans like what you sing.
CFN – How much influence has Ronnie Milsap's music had in your music?
James – Its pretty apparent in a soulful record like this one.  See, Conway Twitty was a ladies guy.  I have always found country and soul to be very appealing to me. Conway and Ronnie made careers out of it.
CFN – "Groovy Little Summer Song" reminds me of a Ronnie Milsap song " There's No Gettin' Over Me".   I pulled them on Youtube and started them at the same time and the tend to blend, the background music that is.  Was that on purpose or was that his influence that you have been talking about in your music?
James - Really, wow I never realized that. Not intentional at all.  It must have been subliminal, honestly.  I will have to check it out.
CFN – How is your wife and the baby?  Should be any day now, are you nervous?
James – Yes of course, having a baby is a huge responsibility.   You wonder to yourself if you are everything you need to be.  Your never ready to have a child, they do not come with technical manuals, you have to figure things out as you go and get advice from those around you that have kids.  Most important thing is to just be there and be the best dad I can be.
CFN – Has the thought of being a Dad had any influence on this album?
James – Its been 9 months since we found out my wife was pregnant.  There is a sense of a deeper commitment to family.  It adds extra pressure.  I want her to be proud of her dad.  Makes me work harder to ensure that I am the Father I need to be and should be.
CFN – What is it like to work with Jamey Johnson?
James – Man, Jamey is an incredible writer, idea guy and an incredible story teller with his lyrics.  His is easily friendly and we have a great relationship.  Friendship is a must in writing music.  You have to be able to relate to one another.  Jamey doesn't like to talk a lot, he would rather play his guitar and sing for 3 hours than spend a lot of time talking.  Jamey is easy to get along with, he appears like this biker kinda guy, but he is really easy going.  Jamey may be considered a bad boy of country music, but he would give you the shirt off his back if you asked him.
CFN – How much of this album did you write?
James – I wrote 10 of the 12 songs.  A good friend of mine Chris Stapleton wrote the other  two.  I am a big fan of Chris's song writing, his stuff really fits me.
CFN – What is one thing you would like your fans to know about you?
James – I will give everything that I've got every single night, no matter what, no matter how I feel.  I really look forward to playing for them and I just want them to be able to get away, with everything that is going on in this country and the way the economy is, people need a chance to release the tension and stress of everyday life.  So I look forward to giving them that release by throwing a party every night at every venue no matter where we play or when.  I just want them to dance, sing and just be themselves.
James is currently on tour with Toby Keith and his "American Ride Tour".  These are two big guys physically and musically speaking, and they are out to throw one big huge party every night.  So when you go to see James Otto whether its in large venue or a local Honky Tonk, just remember to have fun and let loose.  Because you can not have a party if your uptight.
After watching various video's online, I now understand James' party retort.  Every video I saw, James was letting loose and having fun.  With various guest at different shows you never know who is going to come walking onto the stage or what he is going to bring to the party.  Just remember to be ready for anything to happen at any of James' shows.