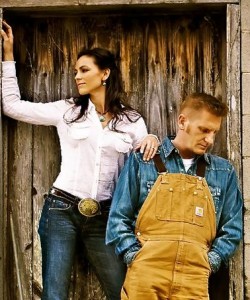 "This Song's For You" the New Single Collaboration with the Zac Brown Band is an Anthem to Country Music Fans (Click Here to Listen)
"…We've sold a lot of our first record and we even had a hit, but now the big wigs back in Nashville say we need to kick it up a bit…"
And that's just what Joey+Rory do on their boldly titled sophomore release, Album Number Two (IN STORES SEPTEMBER 14th). You can listen to The Title Cut Here!  It's the follow-up to their successful debut album The Life of a Song – an album that entered the Billboard Country Album Chart at #10 and quickly spawned a Top 30 hit earning the husband & wife act the 2010 ACM Award for New Duo as well as several industry and fan-voted award nominations.
When you see the husband & wife duo you don't need to be told that what they have is genuine. Just listen to their music or listen to them talk and you can tell that what they have is the real-deal, …not just as a musical duo, but as a couple. The deep connection they have doesn't just shine through their music, it's the reason their music shines.
The new album draws from the same deep well that inspired that debut and which now delves deeper into the stories of Joey+Rory's everyday life together and the things that make them laugh, cry and love each other as they do. The new material featured on Album Number Two is largely co-written by Rory, an award-winning hit songwriter in his own right. In this new set, the couple continues the theme of keeping their music honest, just as much as keeping it real, without taking themselves too seriously.
"…Our new image consultant, says we need a fresh hairdo…as if that's gonna make-or-break Album Number Two…"
One of many shining moments on Album Number Two is the final track and lead single, written by Rory and Zac Brown titled "This Song's For You." The song, featuring the Zac Brown Band and produced by Keith Stegall, is a working man's anthem and a tip of the hat to country music fans and concert-goers. It was written by Rory and Zac on the road and was first introduced on the "Breaking Southern Ground" tour. The overwhelming response prompted a halt to the release of the already completed Joey+Rory album until the song was recorded and added.
"We worked it up with Zac in rehearsals for the spring tour as something to do in the encore," says Rory. "But the response to the first time we sang it on stage took our breath away. It still does. It's not just for the fans…it's for all the people out there who work hard for a living, are barely getting by, and who truly love this country even though it ain't perfect."
A video for the single was recently shot in Joey+Rory's community near their farm in Pottsville, TN with a cast of nearly 60 everyday folks who live there. Scheduled for release mid-August, the video was directed by Darren Doane who also directed Zac Brown Band's live DVD and last three videos.
Other cuts led primarily by Joey's honey-laden vocals cover all the bases from their signature tongue-in-cheek style of the title cut to "That's Important To Me," a song that encapsulates the down-to-earth values that define Joey+Rory both as a couple and a duo alike. There are songs about love ("Born To Be Your Woman"), about cheating ("God Help My Man"), and about faith ("Where Jesus Is"). Songs about cowboys ("All You Need Is Me"), horses ("The Horse Nobody Could Ride"), and even one about being famous ("Farm To Fame").
"We just want to be who we are, nothing more and nothing less," says Joey, "and sometimes that means speaking our minds." Rory adds, "Our plan for this new record is the same as it's always been – to show up, do what we do and hope that magic happens."
"…Now you might think we're crazy, but is it really all that hard…just cut some songs that move you, and sing 'em from the heart. But if we are mistaken…and our career is through. We'll bid our fans a fine farewell with Album Number Two."