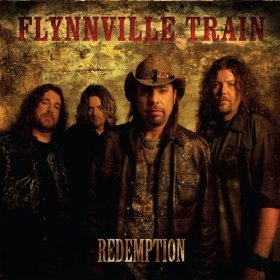 Those of you that say you are true blue country fans need to be on
FLYNNVILLE TRAIN'S
party car,  because these boys are as legitimate as they come.  Their new album "
REDEMPTION
"  is set for release on July 20th.   So take my advice and get on the party train and enjoy their climb to the top with their new single off  the
Redemption
album, "
Preachin To The Choir
"  which talks about saying and feeling things that others feel, see and think.  This song talks about today, war, God and country.  It is as true as any song has been or ever could be.  "
Preachin To The Choir
" comes out at a time when this country is down but not out.  These guys really take you deep into what they are feeling with this song. If it doesn't hit home with anyone that listens to it, well frankly they are not paying too much attention to what the song means. This album has so many songs that will climb the charts.  The song "
Home
" starts the album off with some great music as the opener. The down home rocking, southern style of this CD is pure country music.  The sound of lead singer Brian Flynn could be in any band of any style,  But his southern rock style is true to his roots in  Middletown, Indiana.  A small town, middle of nowhere part of the country with a big heart and their music is no exception.   This gritty, rocking pick you up and slam you down style of music is as down home as it gets.  There is so many influences that have crept into their souls and it shows in the album.  From Jimmy Hendrix to Willie and Waylon.
"Friends of Sinners
", is deep and dark  at times.  Some times, well really through the whole song, it makes you think about your life and things that you have done or what you would or should have done at certain times in your life.  We all ask for forgiveness at times and this song is no exception.   This song should be the next single.  It is truly a deep feeling and honest song. How do you describe what this band has, deep down home, blue grass style, devoted to the working man and blue collar workers.  Flynnville Train is an exceptional band.  So exceptional that they could pull off recording one of country rocks greatest songs by one of the greatest bands of the 70's, "
Sandman
" by
America.
What an incredible way to salute a great band.  Brian Flynn really lets it all hang out on this song, and the similarity between Brian Flynn and Dewey Bunnell are pretty scary at times, but makes the song really great. 
America
fans will appreciate this version.
FLYNNVILLE TRAIN
is coming like a runaway locomotive.  And those of you who stand at the station and don't board the train when it comes will be left behind choking on the smoke from the Steam Engine pulling this band to stardom. Track Listing for
Redemption
:
Sandman
Redemption
33 Steps
Home
Preachin' To The Choir
On Our Way
Tip a Can
Turn Left
Alright
Friend of Sinners
Scratch Me Where I'm Itchin'
The One You Love