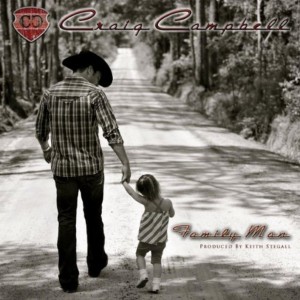 Last summer while perusing the
@countrfannetwork
on twitter, I came across a tweet by
Chris Young
to check out a friend of his named
Craig Campbell
.  So I of course clicked on the link and took a listen to this friend of Chris's and was immediately blown away by the song "
My Little Cowboy
".   I was seriously blown away and thought oh my god, this guy is incredible and its only a matter of time before he is signed and has an album out.   I sent out an email and before you know it, I am on the phone and having a conversation with Craig.   He was so down to earth and very appreciative of my compliments and happy I took the time to search him out and wanna talk to him.  That was 1 year ago and look what Craig has accomplished since then. He has signed a record deal with Bigger Picture Group, has a top 20 hit on the
Billboard Country Top 20
, has two beautiful kids that were in the "
Family Man Video
" and is touring all over the United States.
CountryFannetwork
– Hi Craig, since we last spoke in March, You have been a very busy man.   A New baby and a new recording contract. Does it seem real and have you come back to earth yet?
Craig Campbell
– I had a good 2010, released " Family Man" and its in the Top 20, hoping it makes its way into the Top 10 soon. I never really left earth, my family keeps me grounded. Between the family and the album its to easy to stay focused.
CFN
– When I first heard you (via Chris Young's tweet) I was blown away by "
Family Man
". Did your write it?
CC
– I wrote it with Jon Henderson and Joel Eric Shewmake and it was produced by Keith Stegall.
CFN
– Was your stepdad a big influence on you and your music?
CC
– No, he was a tough Southern Baptist Christian. He would have wanted me to sing Gospel music. He passed away around the time I started. He did help me in a weird way though, when he passed he left my mom some money which she in turn helped me buy equipment and a trailer. So in a weird way he did help me.
CFN
– Who's idea was it to have your wife and kids in the video for "Family Man"?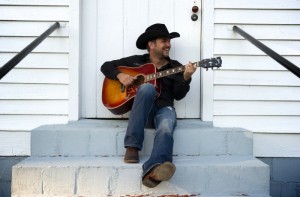 CC
– They where going to cast for the parts but I said let's use my girls and everyone got really excited, so that's what we did.
CFN
– You and
Chris Young
are Friends. He was a true believer in you, posting to his twitter account (
@ChrisYoungMusic
) about you. How did you two meet?
CC
– We met in a club on Broadway in Nashville. My fiddle player was his roommate. He would come in once a month and hang around and play a little and sing with us. We just hit if off and have been good friends ever since.
CFN
– Your traditional back to basics attitude is awesome. Would you change it if the label wanted you to change or would you walk away?
CC
– Don't think I could if I wanted to. My label loves my singing and the way I do it. So I really don't have to worry about that.
CFN
– How much of your new album did you write?
CC
– Well there are 13 songs on the album and I wrote 11 of them. I wrote "
Family Man
" like I said with Jon Henderson and Joel Eric Shewmake.
CFN
– Family Man is such a great song. It makes you really stop and think about what you have and what is really important. Was that the message you wanted to send?
CC
– A little of both. There are real stories and real life behind the song.
CFN
–
My Little Cowboy
, where did the lyrics come from?
CC
– I wrote that around the same time as "Family Man". It came from an emotional roller coaster I was on. I thought I was having a baby boy and ended up having a baby girl. Which I am so thankful for.
CFN
– I love this question, it really catches people off guard. What is one thing fans do not know about Craig Campbell that you would like them to know?
CC
– Ignorant drivers get under my skin, because of their disregard of others on the road.
Craig Campbell
took time out of his busy schedule to do this phone interview, and we had a lot of problems with the connection, so it was kinda cut short. But you can see that he is really a regular guy who has been fortunate enough to live his dream of singing for a living and having such believing friends and family to help him achieve his dream. He is a leveled headed guy who understands what he has and appreciates it to the bitter end and does not take it for granted. He just wants to do what he loves and spend time with His wife and two beautiful girls. Craig's new album
Family Man
will be released on April 5th and check out his Web Site for 2011 Concert Tour Information at
www.craigcampbell.tv/tour