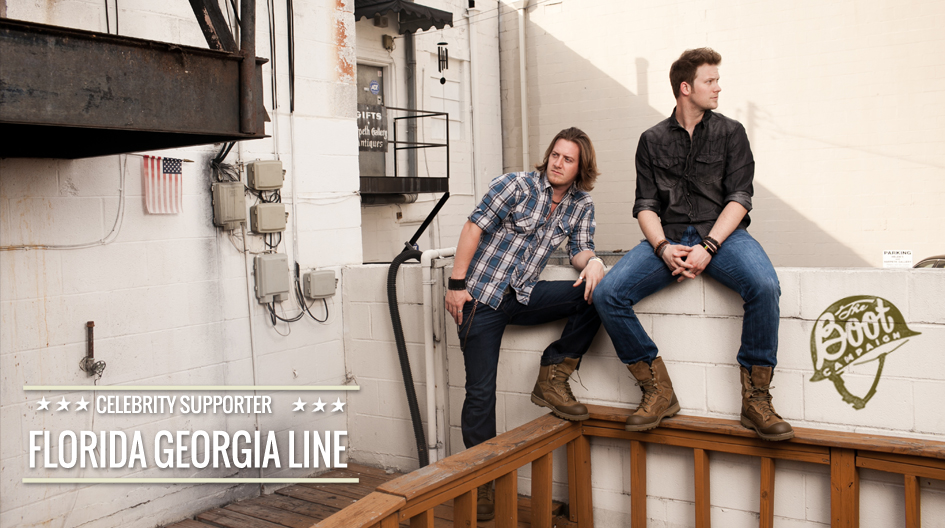 NASHVILLE, Tennessee – (June 11, 2012) – Florida Georgia Line is proud to support the Military non-profit The Boot Campaign. The up and coming country rock duo's Brian Kelley and Tyler Hubbard have pledged their commitment to the troops by putting on their own pair of Boot Campaign military issue combat boots and "taking a walk in a soldier's shoes."
Supporters of The Boot Campaign purchase boots with all proceeds going to partner military charities that help with a variety of both physical and emotional issues that returning soldiers face today. The Boot Campaign wants Americans to put the boots on to "symbolically walk in the shoes of our military men and women to remember their service and sacrifice."
"Anything that we can do to help our soldiers past, present and future and their families, we are thankful to be a part of. This cause really hits close to home; my uncle and cousin both served overseas and my grandfather was awarded two purple hearts during his active duty. We are proud to be a part of The Boot Campaign and thrilled to have them on the road with us for the Country Throwdown Tour. We hope to see all the country fans at the show put their boots on and join us in supporting our veterans as they return home," shares Florida Georgia Line's Brian Kelley.
Florida Georgia Line is breaking through the country music charts with their debut hit single "Cruise." Already a fan-favorite live and selling nearly 30,000 copies in just eight weeks, "Cruise" is from their new EP It'z Just What We Do. Produced by Joey Moi, the EP debuted at No. 35 on Billboard's Country Albums Chart. The duo – comprised of Tyler Hubbard from Monroe, Georgia and Brian Kelley from Ormond Beach, Florida – have opened for artists like Jake Owen, Brantley Gilbert and Colt Ford, and secured a coveted spot on the 2012 Country Throwdown Tour. Florida Georgia Line has combined electrifying, hard-driving rock with honest, expressive lyrics into one of the most exciting sounds in all of country music. They've come a long way since their days as students at Nashville's Belmont University, where they played local clubs and wrote songs between classes.
Florida Georgia Line joins the ranks of current Boot Campaign celebrity ambassadors Dolly Parton, The Rock, FX's Cast of Sons Of Anarchy, Troy Aikman, Brantley Gilbert, Eli Young Band, George Jones and Gary Allan.
For more information on Florida Georgia Line and tour dates, visit www.FloridaGeorgiaLine.com
The Boot Campaign
The Boot Campaign is a grassroots military appreciation and veteran awareness campaign started by five women from Texas, known as the Boot Girls. The Boot Girls launched the Boot Campaign in 2009 to spread awareness of the needs of military personnel returning home from combat and express gratitude to current military. Through the sale of military combat boots, the Boot Campaign donates proceeds to a group of partner charities that work with soldiers healing from a variety of physical and emotional combat wounds, embodying the campaign motto that, "When They Come Back, We Give Back". www.BootCampaign.com