May 30, 2009 Mansfield, Ma was the location of one of the greatest shows on earth.
WKLB 102.5
held it's annual
Country Music Festival
produced by
Live Nation
with headliner
George Strait
. If you missed it, then you missed one great never ending musical journey, from
Randy Houser
who had an incredible sound to which the crowd joined in right from the first note and continued till he sang a couple of lesser known songs, but followed up with his new single "
Boots On
", which garnered a great reaction from the crowd with head boppin, people dancing all over. Randy packed in the crowd with his tremendous sound and range. Randy lived up to all expectations and a whole lot more.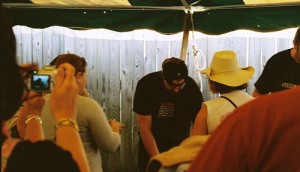 The fans get an unexpected surprise when Randy Houser stops at the tent to sign autographs for his adoring fans.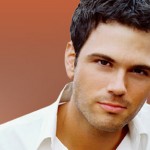 Chuck Wicks
came out like a closing pitcher. He came out hurling everything at the crowd with his high energy and non stop singing and fantastic vocals, other than a little feed back problem the show was flawless. Chuck talked about his stint on the television show "
Dancing With The Stars
" alongside girlfriend
Julianne Hough
, and the crowd just ate it up. He sang songs from his debut album "
Starting over
" including "
Stealing Cinderella
", "
All I Ever Wanted
" and "
Man of the House
". It was apparent that the woman in the audience really enjoyed his show and were all screaming his name and trying to get their hands on him.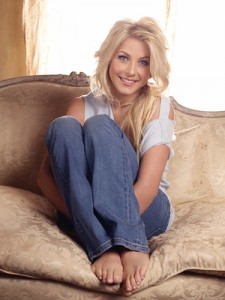 Jullianne Hough opened the show on the big stage and hit the stage like a person on fire. She was absolutely incredible and energetic, she had a short set and I think the crowd would have loved to hear a couple more from her. The crowd was into her and her music from note one all the way to the end. Jullianne was so appreciative of the response from the crowd, she kept saying thank you. It made the people around me smile and I really enjoyed her warmth towards the crowd, Julianne has a tremendous career ahead of her, with the talented people around her promoting her and writing her music she will soon be in the company of great stars such as Faith Hill, Shania Twain, Carrie Underwood, Reba Mcintire and Martina Mcbride. She has a tremendous powerful voice which is reminiscent of Martina and Reba and that will take her as far as she wants to go in this business.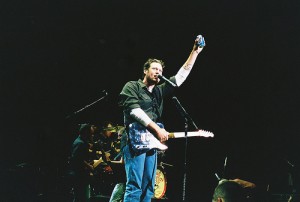 Blake Shelton really stole the show up to this point. Blake came out on stage with a beer in his hand and stated " This is not the first beer i have had tonight" the crowd went wild cheering him as he slowly opened his beer and took a drink. Then set off to rock the night away with the crowd standing on their feet for most of his performance. Blake Shelton is one artist that has what it takes to drive country music into the young country fan's living room and radio. Blake played most of the songs off his latest album "Startin' Fires", then bringing out his most famous "Austin" which caused the crowd to pretty much go into a frenzy and start singing at the top of their lungs. The response from the crowd prompted Blake to suggest that maybe he made a mistake and should have named the song "Boston". Blake has a great stage presence and really has what it takes to get the crowd going and really keeps the audience engaged. I particularly enjoyed his story of going in to George Straits dressing room and asking George for some advice. He said he was really nervous about coming in to Boston and he wasn't even sure if the Boston crowd had any idea of who he was, and did George have any ideas for him. George said just play something everyone will know and you will win them over. So Blake played the Freecreditreport.com jingle from their commercials and the audience just loved it. I guess George was right he knew exactly what to do, although I personally think that Blake did not really need any help the audience knew his songs and sang along with him and truly enjoyed his show. When the "King" George Strait came out, it sounded like nothing that this fan has ever heard, the crowd went absolutely wild, like starving castaway's being fed for the first time in month's. Backed by his suberb Ace in the Hole Band, You would have thought this was the first time country music was played live in the Northeast or the last time it would be played. King George does not need fancy sets and lights as a backdrop to energize his show, his music does it all on it's own. George Strait wowed the crowd with mixes of old and new, including past #1 hits "Write This Down", "The Chair", "Amarillo by Morning", "I Want to Dance With You" and "The Fireman". Along with some of his newer stuff including "Troubador", "Give it Away", "Living for the Night" and "I Saw God Today". Everyone was on their feet from the first note till the last of the encore which comprised of 5 songs from his hits from the past including a great cover of Johnny Cash's "Folsom Prison Blues". At this point in the show not many fans had a voice left after singing every song along with George Strait. In various reviews of his tour to date it has been stated that George was stiff and not very emotional. Well, not this night in Boston, George was very appreciative and responsive to the crowd walking up and taking roses handed to him by fans and walking from one end of the stage to the other and shaking hands with his rabid fans.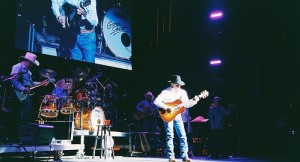 As George said his farewells and thank you to the crowd and his band, George's last word's where
"We'll SEE YOU NEXT YEAR"
, which drew a huge scream from the crowd. As the fans filed out, the smiles where every where. People could not believe what they had just witnessed and can not wait till next year to see him again. All the way out to the parking lot people commented on how great he sounded and looked. Well from country fan network to country fans every where, George Strait is better now than he ever was. His timing, sound and gestures during his songs are all in the right place and timed precisely. It will be a sad day when this country
"Icon"
stops touring or recording music. But until that day happens
"KING GEORGE"
is only getting better and better every day. Thanks Mr. Strait we love and appreciate what you have given us.